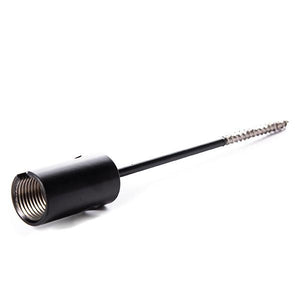 The Tree Mount allows you to mount lights directly in a tree by simply threading your fixture the mount. Use this to get a perfect setup that will impress.  Create moon lighting and different effects with the Tree Mount, while allowing healthy tree growth and protection for your wire and fixture.  
INSTALLATION INSTRUCTIONS:
1. Using a 5/16" hex drive socket, drive TreeLight Mount into tree until threaded/uncoated area is no longer visible.
2. Thread preferred landscape light fixture to tree mount.
3. Affix cord to tree using desired method.
FEATURES & BENEFITS:
• Mount most landscape lighting fixture brands to trees for a downlight effect
• Landscape lighting fixture attaches to a 1/2" NPT threaded female fitting
• Internal 5/16" hex head allows for fast installation with drill and nut driver bit
• 100% stainless steel with bronze powder coat finish
• 3.5" stand-off bolt accommodates for many years of tree growth
• Eco-friendly design will not damage trees
• Lasts as long as the LED light you are installing
• No yearly maintenance
• Mono (single point) installation makes the TreeLight less likely to infect a tree
• Pass through slot accommodates prewired fixtures
PRODUCT SPECIFICATIONS & MEASUREMENTS:
• Thread Length: 2.25"
• Unthreaded Length: 3.5"
• Socket Length: 1.75"
• Total Part Length: 7.50"
• Install requires 5/16" hex drive
• Socket threading: 1/2" NPT
• 100% stainless steel
• Bronze powder coat finish
SKU: TREELIGHTMOUNT