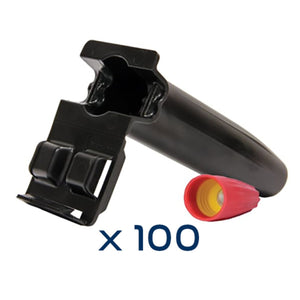 The Dryconn Direct Bury Connector (100 pack) 
This Wire connector is made for direct bury applications where strength and toughness matter.  The provided wire nut securely ties your wire together, and the gel filled tube provides waterproof and damp area protection for the connection.  
Wire Type: Copper/Copper
Wire Range: Min #22/Max #8
Temperature Rating: -105°C (221° F)
Silicone Sealant Temperature: -45°F to 400°F
Tube Construction: Sunlight and Impact Resistant Blended Polypropylene 
UL 486D Listed as a sealed wire connector system. For use in damp, submersible locations. Not to be used in continuous submersion applications.
UPC: 00719362202556
Width : 3 11/16"
Height : 1 1/2"
Length : 1 3/16"
Voltage : 50V
Color : Black
SKU: 20255-100PK